CRYSTAL HEALING
I am a certified Crystal Healer in two different lineages: "Alaya Crystal Healing" through the Founder & Educational Director of www.LoveAndLightHealingSchool.com, Ashley Leavy in 2011, and Crystal Healing Level I through Diane Bloom of http://freespiritcrystals.com/ in 2007. In addition, I have also taken the following courses with Ashley Leavy:
Chakra Healing with Crystals & Stones

Self-Protection with Crystals & Stones

Emotional Healing with Crystals & Stones

Working with Crystal Grids

Advanced Crystal Healing 

Crystal Reiki Levels I, II and III

Stone Grid – Sacred Stone Energy, Levels I, II and III
I like to combine crystals/stones with the Reiki sessions I do, when I am guided to do so. The Reiki energy enhances the healing properties of the crystals/stones, and the crystals/stones enhance the healing affects of the Reiki energy.  Additionally, if a crystal or stone is on your person during a Reiki session, it becomes supercharged with Reiki energy during the session and can be taken home and worn or carried in a pocket for 5-7 days for continued healing benefits.
My clients may purchase a set of chakra crystals/stones that come with a storage bag after they have had a Crystal Chakra Layout, either with or without a Reiki session.  They can take them home after the session and place them on their major chakras everyday for approximately 10-15 minutes for up to 7 days to continue the healing and balancing process. Cost per set is $20,.  Here are some examples of  my Crystal Chakra Layout sets, and the little keepsake bags they come in.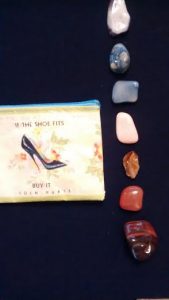 .            Two Crystal Chakra Sets and their bags (I hand pick, de-program, clear and charge each crystal/stone)
.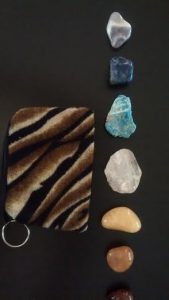 CRYSTAL HEALING AND REIKI: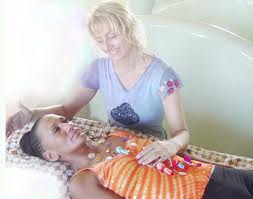 Many Reiki practitioners and others who work in the alternative healing arts combine crystals/stones with their healing practices.  I trained in two different lineages of Crystal Healing, and like to combine crystals with Reiki when I feel intuited to do so.
Placing a crystal/stone on the area of the body at the location of any of the seven major chakras that corresponds to the color of the chakra is a very common way Crystal Healers use crystals/stones to bring a chakra or the chakras into balance.  They can also be placed on the body in areas of pain or disease.  This is called "entrainment".  The  vibration of each stone/crystal has to do with it's color – each color vibrates at a different frequency. Each chakra is associated with a different color, and if healthy and balanced should be vibrating at the frequency of that color. When we place a crystal/stone on a chakra of matching color, we are "entraining" the chakra to raise it's vibration to match that of the crystal/stones color so it will open, clear and come into balance.
Using crystals/stones in this way is particularly effective while you are having a Reiki session, as the Reiki energy flowing into the crystals/stones supercharges them with Reiki, Reiki is also enhancing the "entrainment" process that the crystals/stones are doing. Additionally, the crystals/stones are also enhancing whatever the Reiki energy is doing. 
Additionally, I can de-program, clear, re-program and charge a crystal/stone with Reiki energy for  whatever a clients particular needs are. They can then take it home and either keep it in a pocket, place it in a little pouch, or in special silver or copper cages made especially for this purpose, and wear it around their neck. Or they might decide to purchase a crystal pendant and have me do the same.  I now have on hand wire wrapped crystal necklaces for sale for the convenience of my clients, made by a local artisan. I can program any crystal/stone to help with addictions, manifestation, or for healing.
I can assist you in writing up a healing intention/affirmation for a particular physical or emotional issue or situation, and clear, charge and program a crystal/stone that you or I have picked out that would be applicable to your issue. After it has been cleared, programmed and charged, you place it on top of the piece of paper you have written your intention/affirmation on. The crystal/stone will then send out a continual flow of Reiki energy to the issue or situation for approximately 7 days. You would then need to bring the crystal/stone back to me for clearing and recharging, or learn how to do it yourself (take Reiki and/ or Crystal Healing classes possible, or I can teach you other methods).
Occasionally, when I am channeling Reiki for someone, I may receive guidance that I need to place a particular crystal or stone on their body during the session in an area of pain, imbalance or disease, or that it would be beneficial for them to carry or wear one, including the one I was guided to use during the session.  I have many some loose stones available in my office for this reason, and again, there are also hand wrapped pendant necklaces available for this purpose.
CRYSTAL HEALING FOR BEGINNERS CLASS:
I am now offering a Beginners Crystal Healing class.  Fee is $55 and class is 2 1/2 hours in length.  Subjects covered in this class are: how to de-program, clear, re-program and charge crystals/stones in multiple ways, how to set up a simple crystal grid, how to properly store your crystals/stones, how to do a crystal chakra layout on yourself or others, and how to make a crystal elixir and mother elixir.  If you are interested in taking this class, you can do it "one-on-one" or if I get enough students interested in taking a class,  I can hold a class for up to 5 people.  I can also come to your home or office and teach this class to your friends or family (if you set this up, you get the class free!).
I also teach an ADVANCED CRYSTAL GRID MAKING class ($55  – 2 1/2 hours in length).  I cover in this class how to select the stones/crystals that applicable to the purpose of the grid, all about grid patterns, surfaces to put your grid on, and adding natural objects to your grid and more. This class can also be taught "one-on-one" or in a group, and in my home, or your home or facility.
CRYSTAL HEALING WAND SESSIONS:
BODY BALANCING: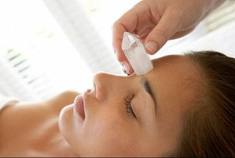 This technique is performed using two special single terminated clear quartz crystal healing wands that I was attuned to so I could use them for this purpose. They are placed on three separate areas of the body for 5 minutes approximately in each area. These sessions are approximately 15-20 minutes in length.
This technique acts to bring the body into balance and is deeply relaxing, which makes it a wonderful addition prior to a Reiki session for those feeling anxious or nervous, and having trouble relaxing into the session.
Many clients come to me for treatment of mild to extreme anxiety.  A Crystal Balancing session before a Reiki session is extremely beneficial in helping someone suffering from this issue to get to a calm, relaxed state making them more receptive to the healing benefits of a Reiki session.
Fee for this session is $30.00.
PAIN RELIEF:
The Crystal Healing Wands can also be used for pain relief, by placing them on either side of the area where the person is experiencing pain and activating them.  This session is approximately 15-20 minutes in length.
Fee for this session is $30.00.



CRYSTAL CHAKRA BALANCING LAYOUT WITH A REIKI SESSION:
Referred to as an "add on", this service entails having seven crystals/stones placed on the body in the area of each of the seven major chakras that correspond to each of the chakras colors. The stones are placed on the body prior to beginning a Reiki session. I can assist you in picking out the stones to use, or I can pick them out for you, or I can the pre-packaged sets of Chakra crystals/stones  I keep around for this purpose ($20/set). When you have a Crystal Chakra Layout during a Reiki session, the crystals/stones become supercharged with Reiki during the session. You can then take them home and place them on your body on the chakras each day for 5-7 days for 10-15 minutes, for even more healing and balancing benefits! The colors of the stones correspond to each chakra, each vibrating at a particular color frequency.
Add on fee for this service is $25.00(with a Reiki session – 60 minute only, either Usui or Karuna Reiki®).
I NOW PERFORM THIS SERVICE REMOTELY FOR ANYONE, ANYWHERE ON THE PLANET, USING A SURROGATE AND MY PENDULUM.  You only have to choose a particular day for the appointment, not a time.  I call you afterwards to go over my findings after preliminary assessment and my findings afterwards.  Fee for this service is $75 (I take credit cards over the phone or in person through SQUARE, or checks for cash.  This service is now listed on my Schedulicity site. 
CHAKRA ACTIVIATION:
This session entails having crystals/stones placed on the body in the areas of the seven major chakras, in the corresponding colors of each chakra, and then each crystal is individually infused with white light. This session opens the energetic pathways within the subject and activates the major and minor chakras.  This technique is best used for tired and fatigued subjects or those under a great deal of stress. This session is approximately 60 minutes in length.
Free for this session is $65.00
CHAKRA HEALING:
This is the most involved of all the three types of crystals/stones sessions I do and includes an aura scan, a circular breathing technique, a crystal laser wand, and running energy through each of the crystals/stones.  I can assist you in picking out just the right crystals/stones for you, or you can choose them yourself. This session runs 90 minutes in length.
Fee for this session is $75.00
CRYSTAL GRIDS FOR AFFIRMATIONS, MANIFESTATION, OR ADDICTIONS:
I also offer "Distant Crystal Healing Grids" for either positive affirmations, healing, manifestation, or working to clear addictions. Here is how it works: we do an intake interview to establish what issues you are needing help with, ex: relationship issues, job issues, emotional or health issues, or clearing of addictions: smoking, drinking, gambling, shopping, etc. You might also be looking to bring more abundance/prosperity into your life, or to get a promotion at work, etc.  Together we figure out how to word your affirmation or healing request, and I set up a crystal grid for you, using the crystals/stones that would be a good fit for your issues.
When the grid is up and activated, I take a picture of it and email you the picture. Once I activate the grid, I charge it as needed. I may also either spray it with an essential oil mist spray, or apply a specific essential oil to it that would harmonize with your needs. I check in occasionally to see if I need to tweak it or redo it. Your job is to give me your feedback on whether you are noticing any shifts or changes happening in your life as a result of the grid.
Grids can be left up indefinitely and re-charged, re-activated, or tweaked as needed. Crystal Grids are a very powerful way to bring about shifts in your life that are just not happening no matter what you do.
The fee for this service is $65 per grid.  You can have more than one grid going at a time, and I offer a discount of 15% for additional grids). I can work with anyone in the United States and take credit cards over the phone for this service. 
"A crystal grid is a geometric pattern of energetically aligned stones charged by intention set in a sacred space for the purpose of manifesting a particular objective."  from author "Hibiscus Moon" in her book"Crystal Grids – How and Why They Work"
To view more of my grids go to:
https://www.pinterest.com/rnbwoman/my-crystal-grids/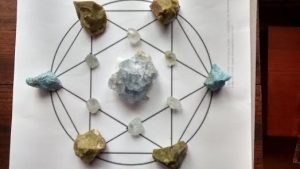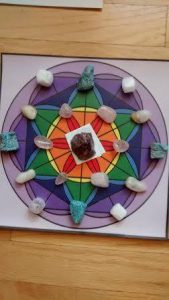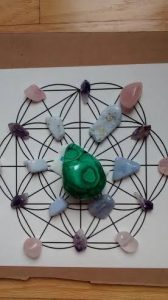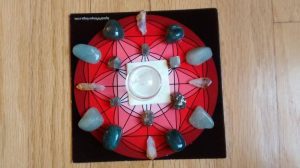 I now have a Facebook Group for those interested in learning more about Crystal Healing:
"The Magic of Crystals and Stones"